08 Aug

Big Company on Occidental Campus

Outdoor Elegance Patio Design Center recently became the 'big company on campus', at Occidental College. The 134 year old institution got in touch with ODE's Monique Wood, with the desire to bring new life to their outdoor spaces. Monique answered the call with a simple yet elegant mix of Polywood chairs and tables, and Treasure Garden umbrellas.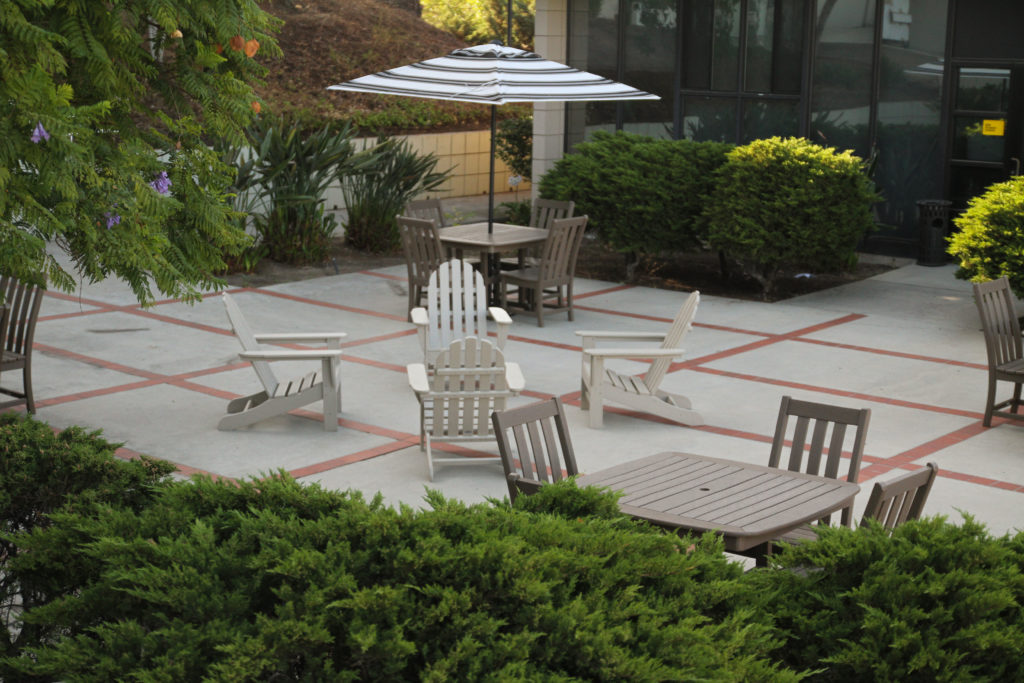 "Outside various residence halls, the administration wanted to provide environments where students could congregate, study, converse, and be comfortable at the same time." Monique recalls from her first meeting. "We visited the campus a couple times, discussing various manufacturers. These spaces were pretty much going to be in direct sunlight all day long, so we wanted to find something that was really durable." In their conversations, Polywood came up several times. Occidental College already had several of their adirondack chairs in tangerine, and the students really loved them. Also, as Monique explained, "Polywood is contract grade, meaning that it's very durable and can survive high trafficked areas," like a busy leisure area on a college campus. 
With the manufacturer for the tables and chairs chosen, they now needed to look into the umbrellas. The college is up in the hills of Eagle Rock, and without proper shade that sun is brutal. "For the umbrellas we used Treasure Garden. We went with their commercial grade. We wanted awning grade because these are going to be in direct sunlight. They wanted something very durable, specifically Sunbrella Fabric, a reputable company who backs up their warranties." With the Treasure Garden umbrellas, Occidental went with the seven foot square version. "They didn't want to go too traditional," Says Monique. "We went with a very simple commercial pop up with a pin." 
Monique's work with Occidental College shows how two manufacturers can come together to create a look that's at once cohesive and completely fresh. Combinations are a strength of Outdoor Elegance, where we often put orders together with more than one type of furniture with several companies. This job favored simplicity, the cohesion of Polywood throughout campus, with a subtle compliment from the Treasure Garden umbrellas. Occidental College is even ordering more Polywood chairs in a louder tangerine color than their current sand-colored chairs, which will let the setups stand out and call attention to them.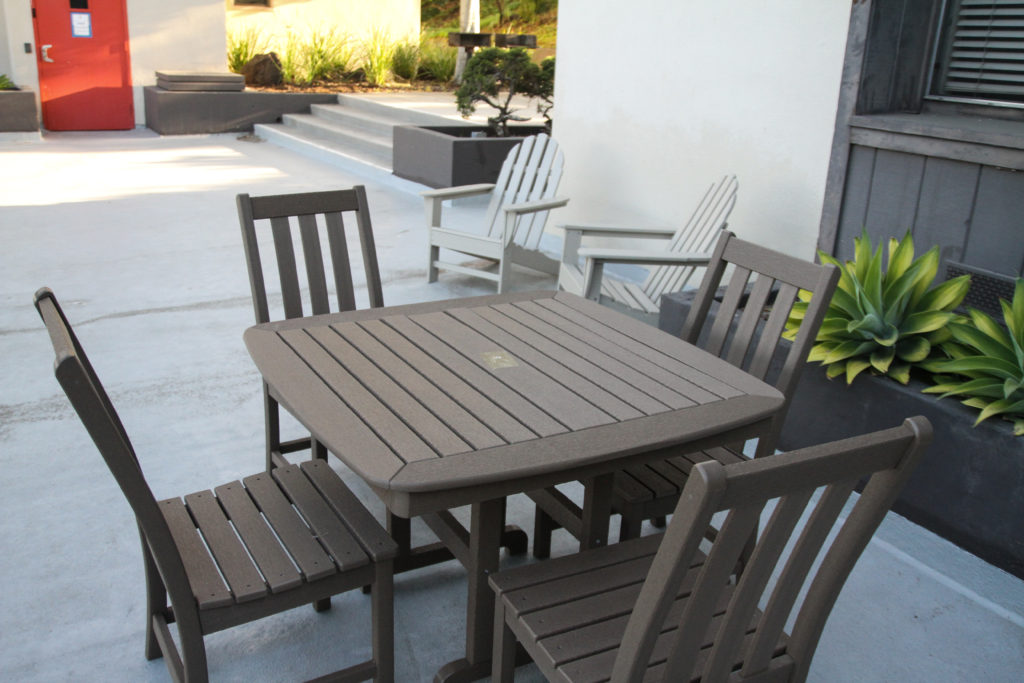 But they already stand as a welcome addition to Occidental's outdoor spaces. "On the day that we did the final walk, I immediately saw the students sitting out on the furniture. That was really exciting to see. Kids were sitting, reading books, and it felt great to see that we had contributed to something like that." It was very rewarding, and made Outdoor Elegance very proud, to see students interacting with the vision from day one. "We put in more (furniture) than what we anticipated, because we really wanted to encourage outdoor study." This year, bringing studies and socializing outside as much as possible is great for safety. ODE specializes in promoting outdoor lifestyles, and was happy to help set that stage at Occidental College.