19 Aug

Revitalize Your Outdoor Space with Outdoor Elegance Clean & Care at Terra Bella in Pasadena

It's easy to see how the new service from Outdoor Elegance, Clean & Care Service, has been so popular. Andrea Rivas explains how they formed a relationship with the beautiful Pasadena condominium structure. Terra Bella has a giant rooftop space for residents to enjoy throughout the year. This rooftop, and many other spaces in the area, require attention and upkeep. The outdoor furniture we enjoy by our poolsides requires the same level of maintenance as the cars we detail and wax, or the carpets we vacuum. That's why Terra Bella called Outdoor Elegance to take a second look at their outdoor space, just a few months after their first cleaning. They scheduled another full service Clean & Care for October, and have scheduled regular clean & care services throughout the year!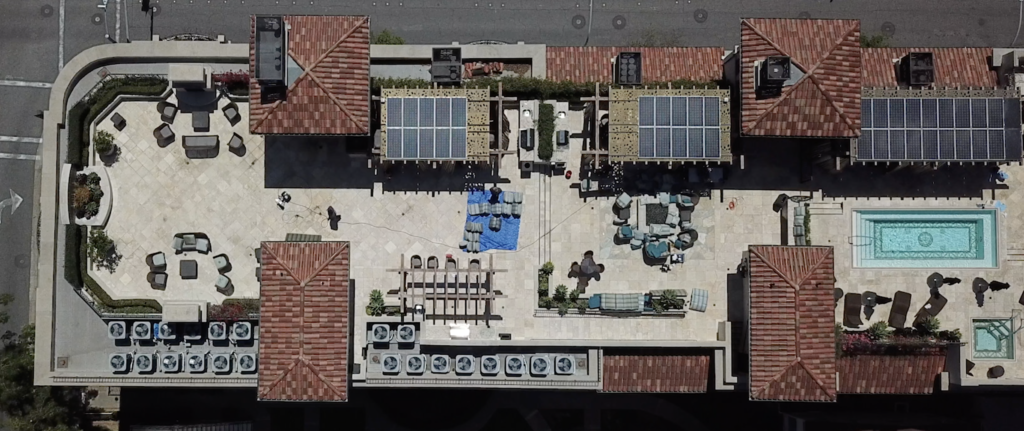 Andrea explained to the Terra Bella spokeswoman, "You have a lot of residents and (the pool area) is just a nice place to hang out. But your cushions have faded over time from the chlorine and the sun." Certain elements are difficult to avoid, and they threaten the condition of everything from cushion and Umbrella fabric, to the frames of chairs and chaise lounges, no matter the material. "Just keeping up with the cleaning makes it look nice, and it also helps with the longevity of your furniture. The (rooftop's) furniture and cushions should last five to seven years, with regular cleaning. But without it, they could be completely worn out in two to three."  We've seen the intense effects of chlorine from pools and Fountains firsthand. "Chlorine can do some damage. I've had to power wash our parking lot (here at Outdoor Elegance) because the chlorine from our fountains makes it fade. It like, stains the parking lot. So, chlorine in the water, along with the sun, can lead to your seat cushions falling apart." 
This shouldn't discourage anyone from creating and enjoying great outdoor spaces. It's just essential to schedule cleanings. The Clean & Care service are here to help. "We have the right equipment, and I've obviously learned how to deal when it comes to textured fabric. The Sunbrella Fabric on someone's outdoor furniture is a big factor in how it should be cleaned properly. And we have the right product to be able to better clean. Because most people just hose off or power wash their cushions. The problem with power washing is, when they dry it leaves watermarks." Outdoor Elegance's team uses a dirt extractor, which is beyond a power washer or a steam cleaner. Their machine "extracts the dirt and water from your cushion." This effectively removes anything from the surface or inside, and leaves cushions looking, smelling, and feeling brand new. 
In addition to cleaning and maintaining, we recommend Furniture Covers for your outdoor space. "It's your sunblock," for your furniture. "It prevents fading. It prevents your cushions from getting hit by the environment." The sun can be as powerful as chlorine when it comes to fading the color in fabric, so keeping it covered is a great way to care for it. 
Terra Bella in Pasadena, CA works with Outdoor Elegance's Clean & Care service, because they understand the value of keeping what they have in good condition. Outdoor Elegance's cleanings will double the active lifespan of the chaise lounges, sofas, and loveseats on their rooftop space, saving you thousands!
That value is matched by an environment that always feels clean and inviting to the residents, and prospective tenants. It makes them feel better about their home, and proud to live at Terra Bella. This is the type of atmosphere everyone wants in their outdoor spaces, and Outdoor Elegance's Clean & Care Service is here to make that happen.